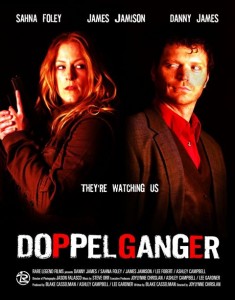 A man convicted of a brutal double homicide is convinced the actual killer has assumed his identity. With the help of a homicide detective seeking redemption and priest from his past, he fights to clear his name and regain his freedom.
Genre: Scifi/Suspense
Directed by Joylynne Chrislan
Written by Blake Casselman
Produced by Blake Casselman, Ashley Campbell & Lee Gardner
Executive Producers: Ashley Campbell, Joylynne Chrislan & Lee Gardner
Associate Producer: Aaron Justesen
Director of Photography: Jason Falasco
1st Assistant Director: Sohrab Mirmont
1st Assistant Camera: Joshua Cameron
Gaffer: Mario DeAngelis
Sound: Randall Adams, Lee Gardner
Key Makeup: Shanda Palmer
Key Hair: Kirsten Nelson
Production Designer: Hraefn Wulfson
Editor: Lee Gardner
Music Composer: Steve Orr
Visual Effects Supervisor: Kenneth Richard Hoffmann
Cast:
Sahna Foley… Detective Rebecca Harlan
Danny James… Jason Collier/Martin Murphy
James Jamison… Father Crowley
Lee Fobert… Detective Tom Ingram
Ashley Campbell… Brenda Hopkins
Anne Sward… Dr. Ramona Lee
Andrew W. Johnson… Prison Guard
"Doppelganger" premiered at the 2012 World Horror Convention Film Festival and was screened at the 2013 Salt Lake Comic Con.